Zhejiang Jiadele Technology Co., Ltd.
E-Mail:sale4@zj-jiadele.com
TEL:0573 87797662
Address:No. 12, Fenghuang Road, Dingqiao Town, Haining, Jiaxing, Zhejiang, China
Jiadele Performance Cooling Heating Air Commercial Hot Water Heater
Jiadele Performance Cooling Heating Air Commercial Hot Water Heater
Model NO. JDLKFXRS-10I
Price:USD 3,000.00-8,000.00 / piece
Minimum order quantity:1 piece
Accept Min order:Yes
Supply Ability:10000.0 piece / Month
Country of Origin:shanghai
Stock Time:15 Days
Product Description
Heating capacity:10/18/22/36/38/43/75/90/180KW

Compressor:Scroll

Refrigerant:R410a/R22/R134A

Heating power input:4.29kw

Function:Hot Water

Heat exchanger:Tube

Power supply:380V/3PH/50HZ

Condenser:Copper Double-pipe Heat Exchanger

After-sales Service Provided:Onsite Installation

Warranty: 3 Year

Application:commerical

Power Source:Electric+Air Source

Type:Air Source Heat Pump

Installation:Stand-up

Housing Material:Stainless steel,Plastic and Metal

Certification:CB/CE/SAA/3C/ISO9001

Place of Origin:CN;ZHE

Brand Name:JIADELE

Model Number:JDLKFXRS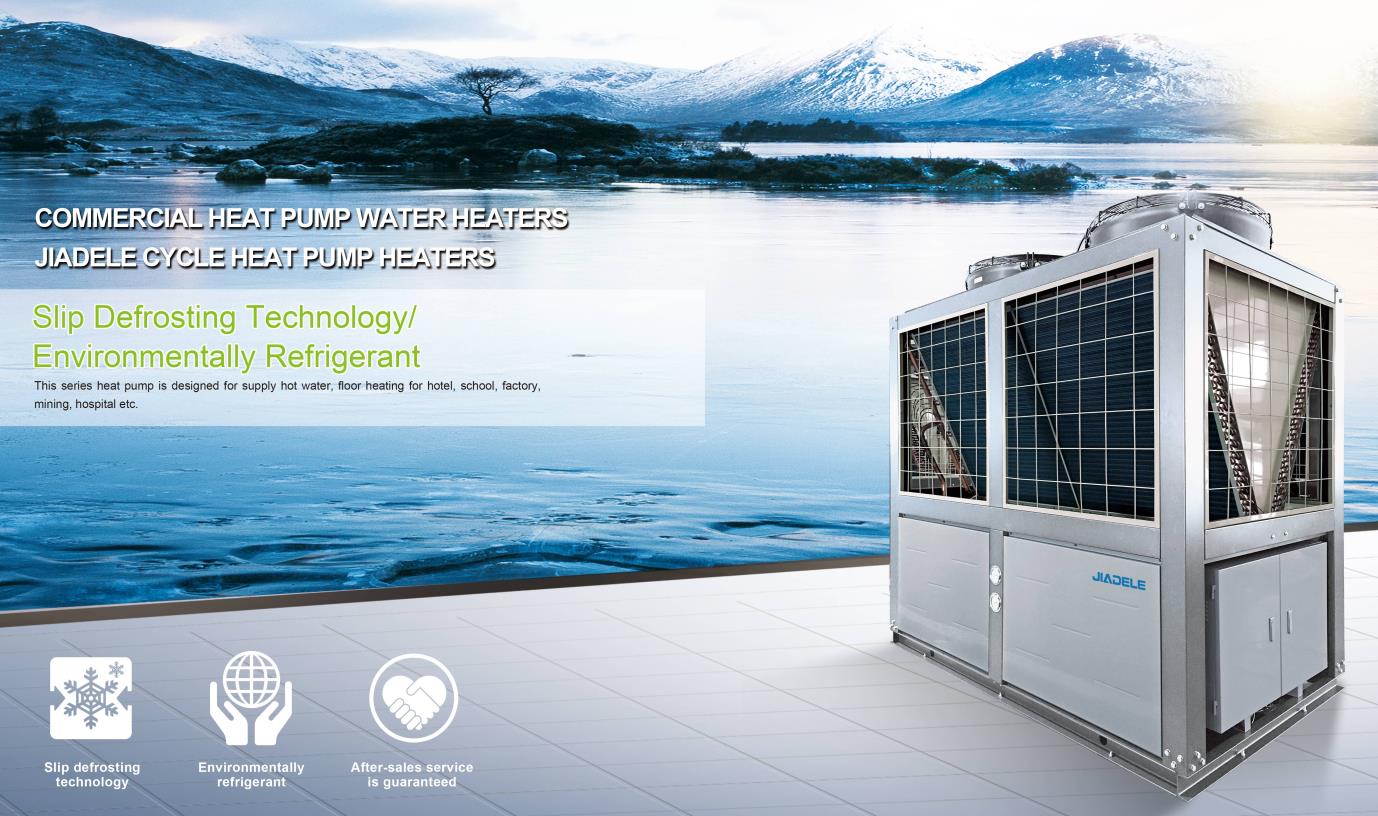 Description:
1.The water will not flow into the tubes directly , the system will still work even the tube broken.
2.With Intelligent controller.
3.Anti-freezing, all-year-round service even in extremely cold area.
4.Adoping the best conduction performance metal copper(heat pipe).
5.Directly connected with city warer without a circulation.
6.Working pressure(0.6MPa).
JiaDeLe's commercial air source heat pump water heater is modeled with the commercial application in mind. Our utility commercial grade heat pump delivers a temperature of hot water up to 65° that fits most commercial premises, such as schools, hotels, offices, and hospitals, at a higher temperature, it can even be applied to floor heating. This all-in-one commercial air source heat pump water heater is designed freestanding that is free from any complex installations. Heat pump heat water is far better and efficient than conventional electric heaters as in power savings and efficiency. With a minimal amount of electric power, our commercial air source heat pump water heater brings sanitary and crystal clear hot water that is skin-friendly to your staff constantly, ensuring truly and unparalleled safety levels. Our commercial-grade heat pump heaters are completely eco-friendly products that aim to bring down carbon footprint while featuring highly efficient heating performance to provide year-round comfort for your business.