Zhejiang Jiadele Technology Co., Ltd.
E-Mail:sale4@zj-jiadele.com
TEL:0573 87797662
Address:No. 12, Fenghuang Road, Dingqiao Town, Haining, Jiaxing, Zhejiang, China
High Efficiency Stainless Steel Sus304-0.5Mm Top Rated Solar Thermal Water Heater
High Efficiency Stainless Steel Sus304-0.5Mm Top Rated Solar Thermal Water Heater
Model NO. JDL-58/1.8
Price:USD 80.00-250.00 / piece
Minimum order quantity:1 piece
Accept Min order:Yes
Supply Ability:10000.0 piece / Month
Country of Origin:shanghai
Product Description
Product name:Solar Water Heater

Inner tank material:stainless steel SUS304-0.5mm

Outer tank material:stainless steel SUS201/Galvanized steel

Frame material:stainless steel SUS201-1.2mm/ Galvanized steel-1.5mm

insulation:Polyurethane

Solar heat storage tank diameter(mm):310/410

Thickness, insulated(mm):50

Vent connection(inch):3/4

vacuum tube:QB-AL-N/AL-47-1500

reflector:stainless steel

After-sales Service Provided:Return and Replacement

Warranty:1 Year

Application:Outdoor

Application:Household

Power Source:Solar

Type:Evacuated Tube

Circulation Type:Direct / Open Loop (Active)

Connection Type:Direct-Plug

Installation:Freestanding

Housing Material:Stainless Steel

Certification:GS

Place of Origin:CN;ZHE

Capacity:300

Brand Name:Jiadele

Model Number:JDL-58/1.8
The solar thermal water heater has gained lots of popularity in recent years, known for its excellent energy-saving and environmental protective features. Conventional electric or burning water heater consumes so much more energy than you can imagine and cause harmful pollution everywhere, while solar power systems make use of surrounding sun radiation and utilize it to heat stored water by recirculation. It helps reduce worldwide concerning carbon footprint while providing sufficient and clean hot water for your home, and most importantly it is zero-cost to consume solar energy. This solar thermal water heater consists of several paralleled tubes and an upper hot water tank. The tubes play a crucial part in absorbing thermal energy from the sun and use it to heat our water. It delivers reliable heating performance without any risks of electricity leakage, rated as one of the safest water heaters. By adopting clean solar energy, you are also fulfilling yourself in cut down on CO2 emissions. Our solar thermal water heater is connected and coated with anti-corrosive stainless steel to make it more sturdy and durable, this remarkably extends its overall serving life to years. Whenever you are in for a water heater, don't miss our solar-powered systems. 
Product Description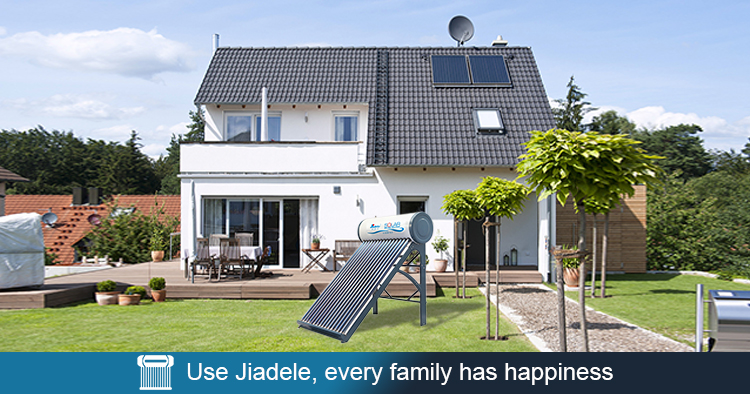 Factory Model: 
JDL-15-58/1.8
inner tank: 
stainless steel SUS304-0.5mm
Vacuum tube: 
AL-CU/SS58-1800
Out tank: 
stainless steel SUS201
Frame: 
stainless steel SUS201-0.8mm
Reflector: 
stainless steel
electric heater connection: 
1.25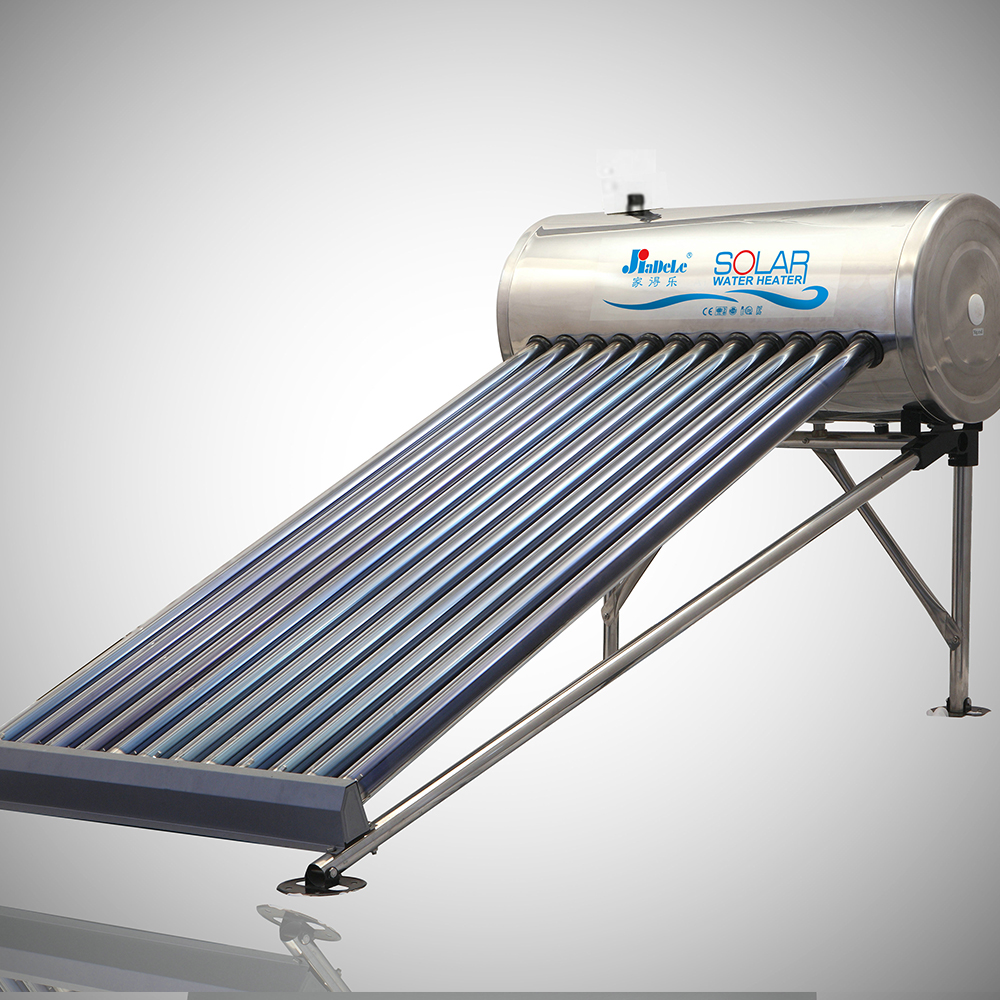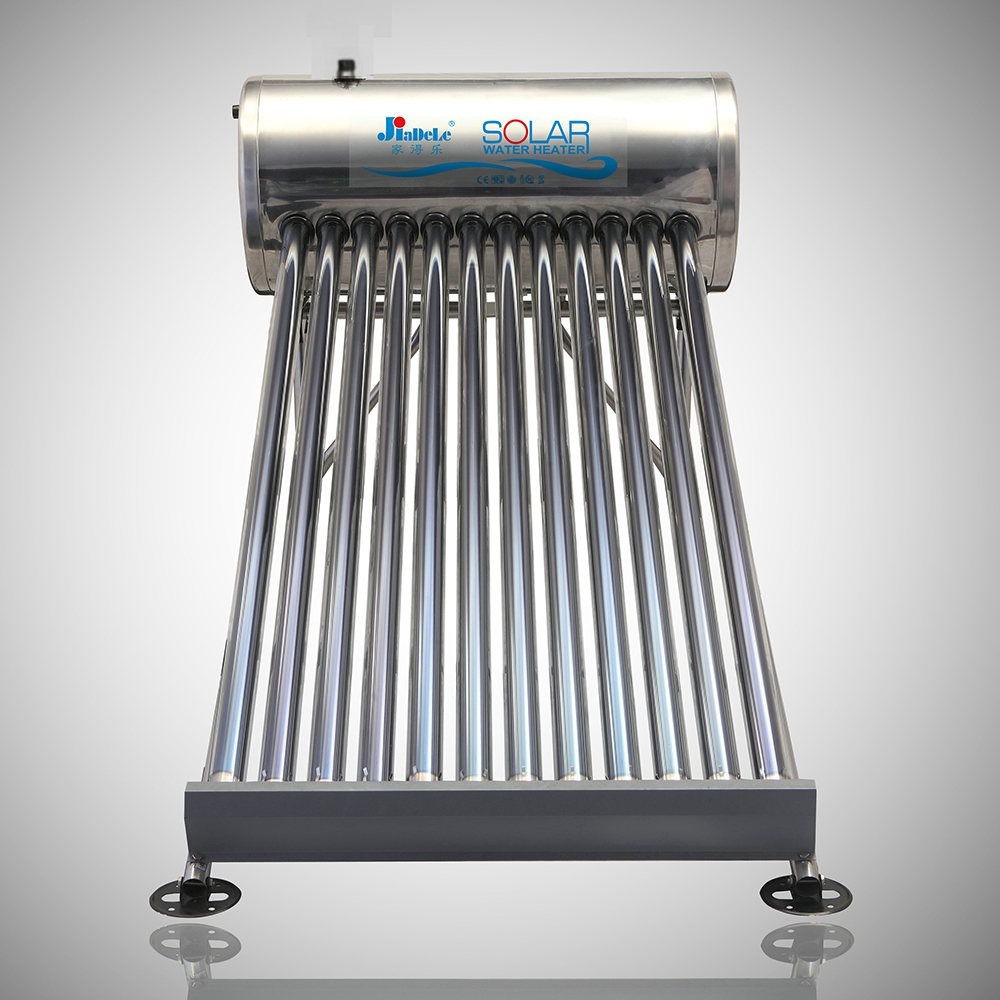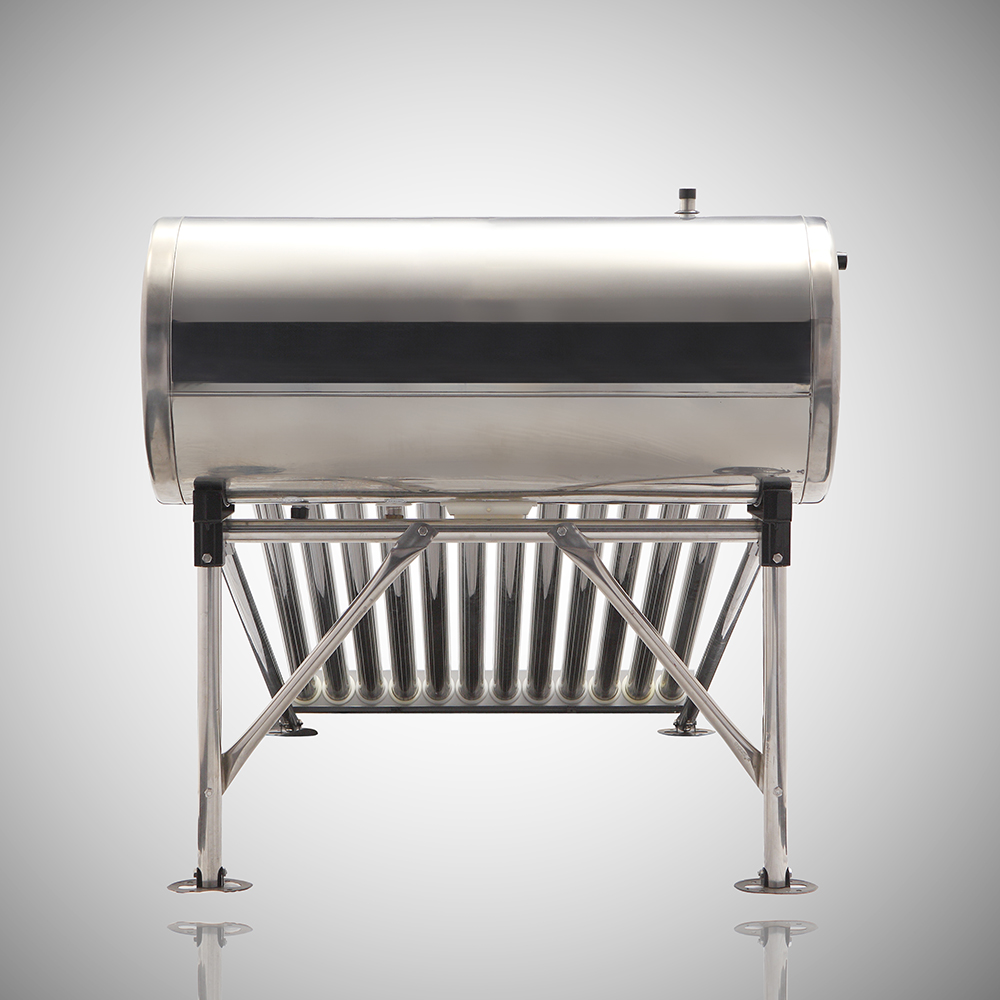 Detailed Images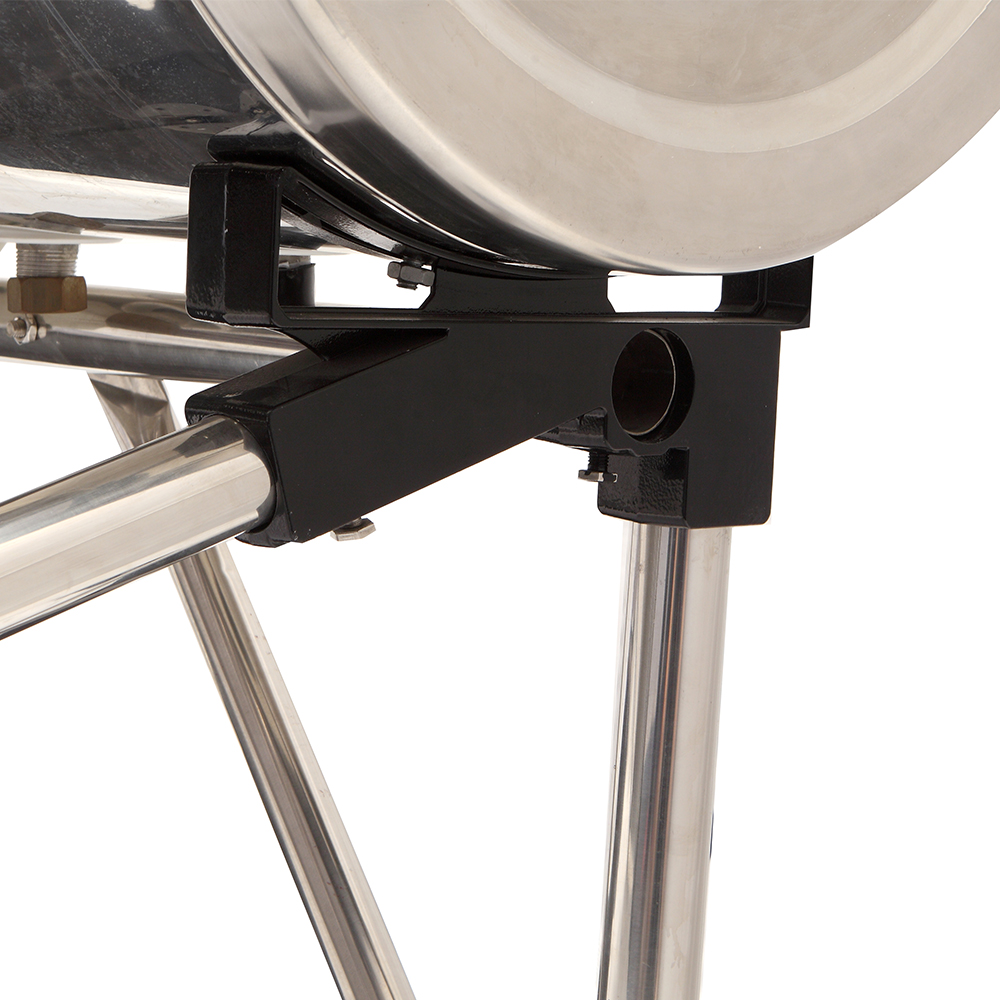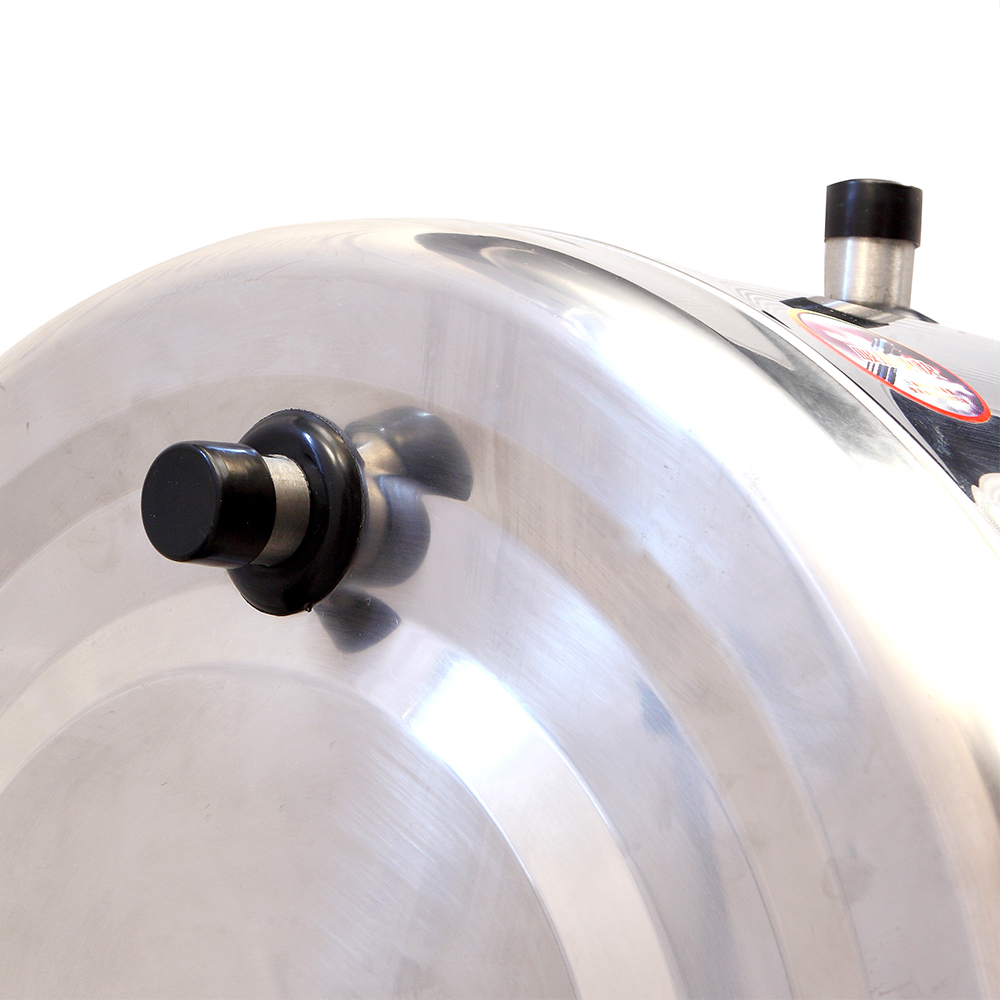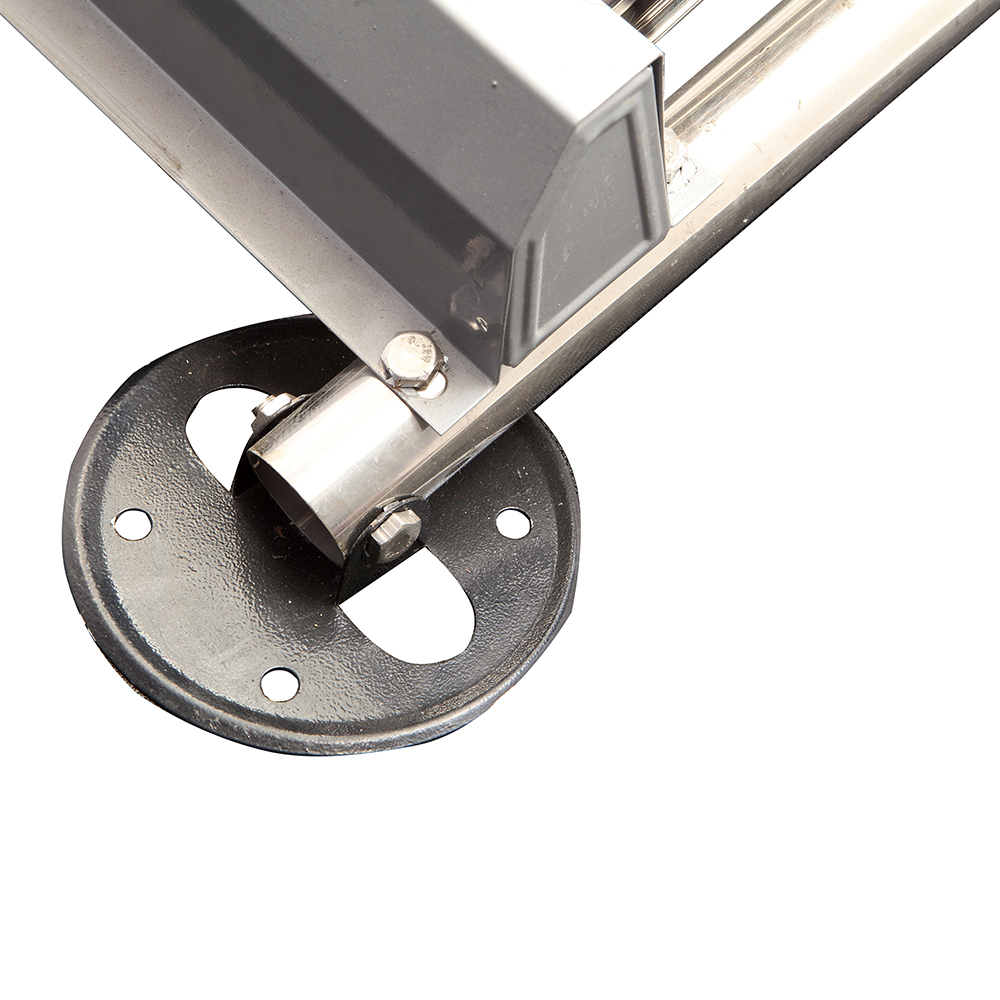 Related Products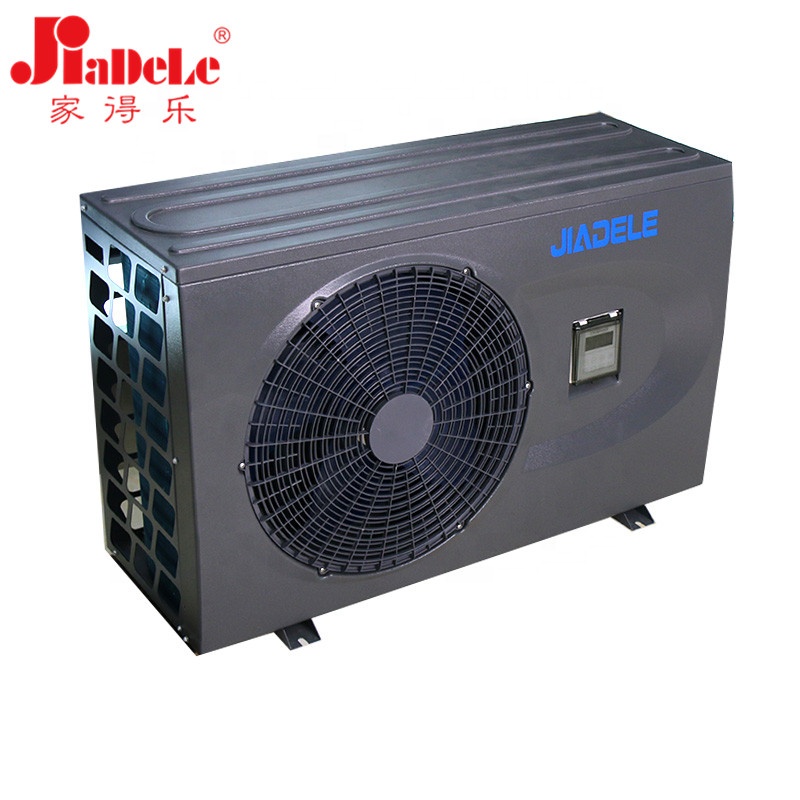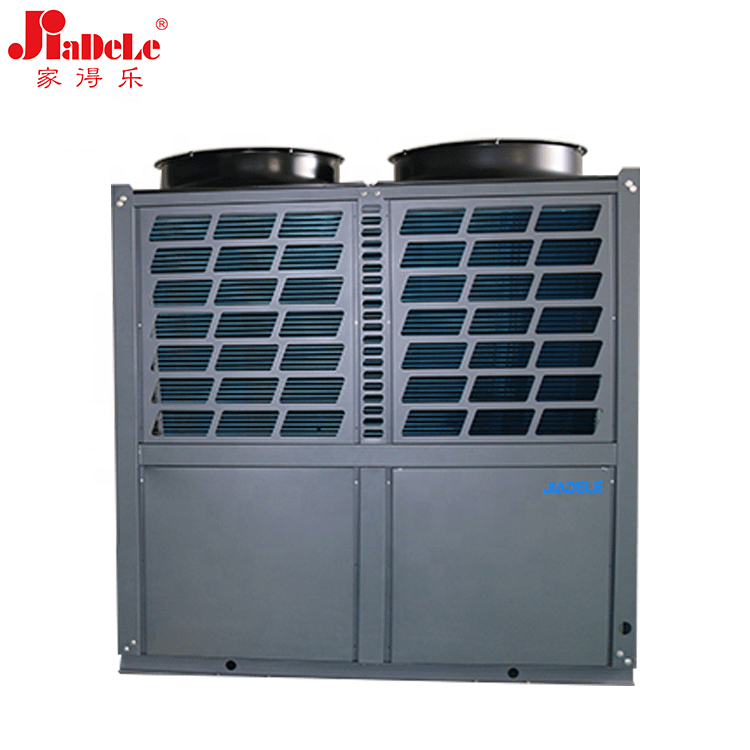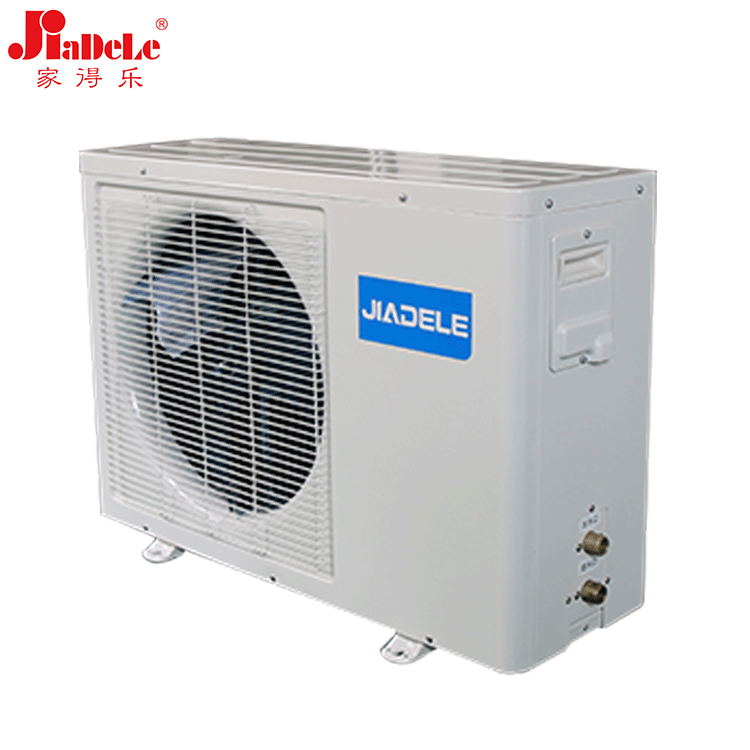 Company Introduction
Zhejiang Jiadele Solar Energy Co, Ltd has been focusing on the hot water industry for 20 years. Our company currently has solarwater heating business division and air source heat pump business division Solar Water Heating Division:specializing in the production of household solar water heaters, large-scale solar water heaters project, flat panel solar collectors and integrated flat plate solar water heaters, heat pipes solar collectors. Air Source Heat Pump Division: specializing in the production of home hot water air source at pump, commercial hot water air source heat pump, northen heating air source heat pump, home pool heat pump. commercial pool heat pump, home and commercial space cooling and heating machine, Space Cooling and Heating and Water Heating machine etc product Our company provides solutions for customers in home and commercial hot water, heating, heating and cooling systems projects, and is a national high-tech enterprise specializing in researching and development, production and marketing of solar water heater and air source products. The building area is 38,000 square meters, the annual sales value is more than 200 mi lion rmb. 80%is exported to more than 50 countries in the world, 2015-2018 Jiadele Solar Foreign Trade Sales Ranked No. 1 in the National Solar Industry for 4 consecutive years. Shanghai Jiashen solar water heaters Ltd was the old name of Zhejiang JiaDeLe Solar Energy Co tdestablished in Shanghai in December 2000. These years, our company's brand of JiaDeLe"with reliable quality assurance advanced technical support and strong brand pull, has won the British crown UKAS. through the national compulsory 3C certification the EU mandatory CE certification,"China Famous Brand. in March 2008, home appliances going to the countryside products for three consecutive years, also passed Solar Keymark certification, SRCC certification, Korea KC certification, South Africa SABS certification, Mexican construction energy certification, the company has appled for more than 80 items of national patents, was identified as high-tech enterprises in Zheyang Province, the company sets up a solar energy product testing and research center and an air source heat pump laboratory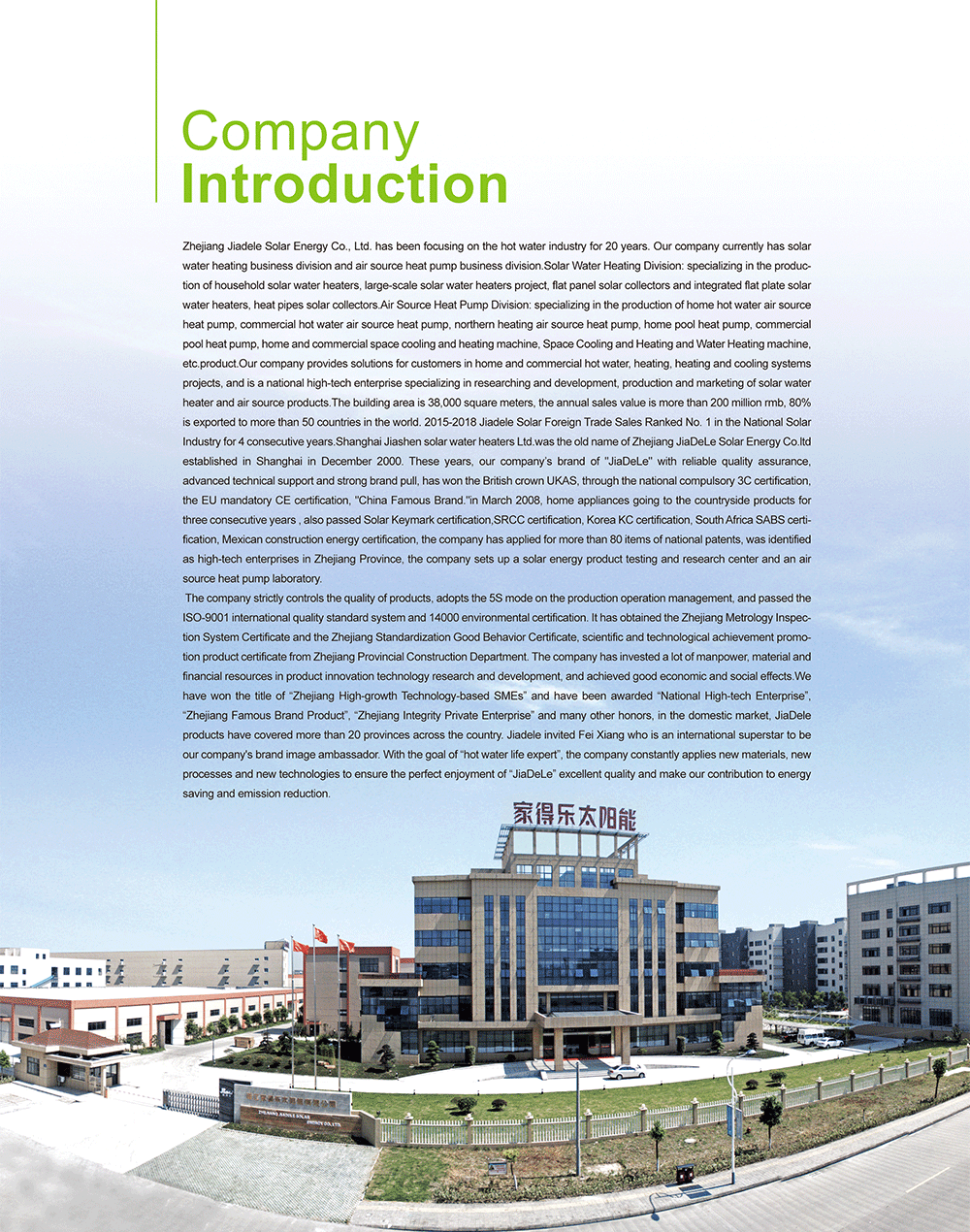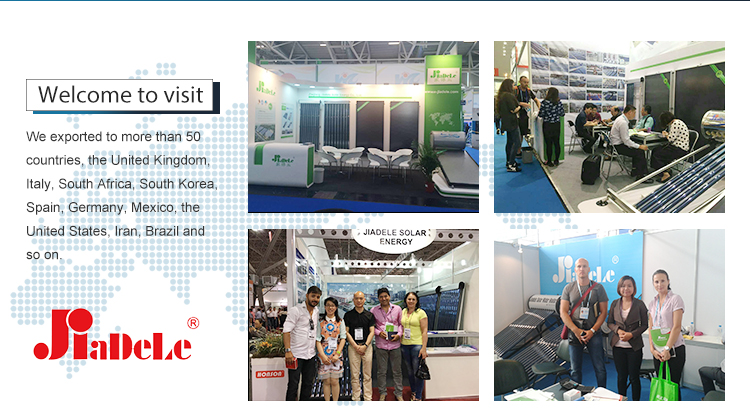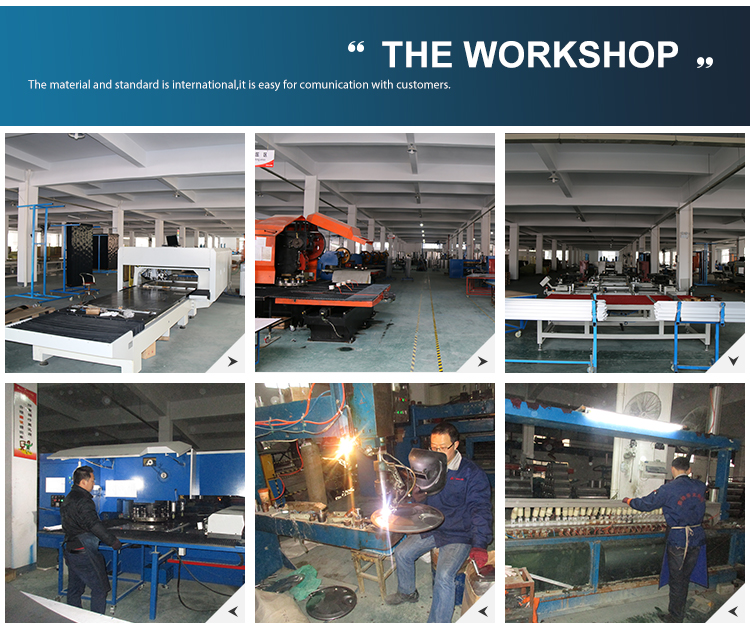 Why Choose Us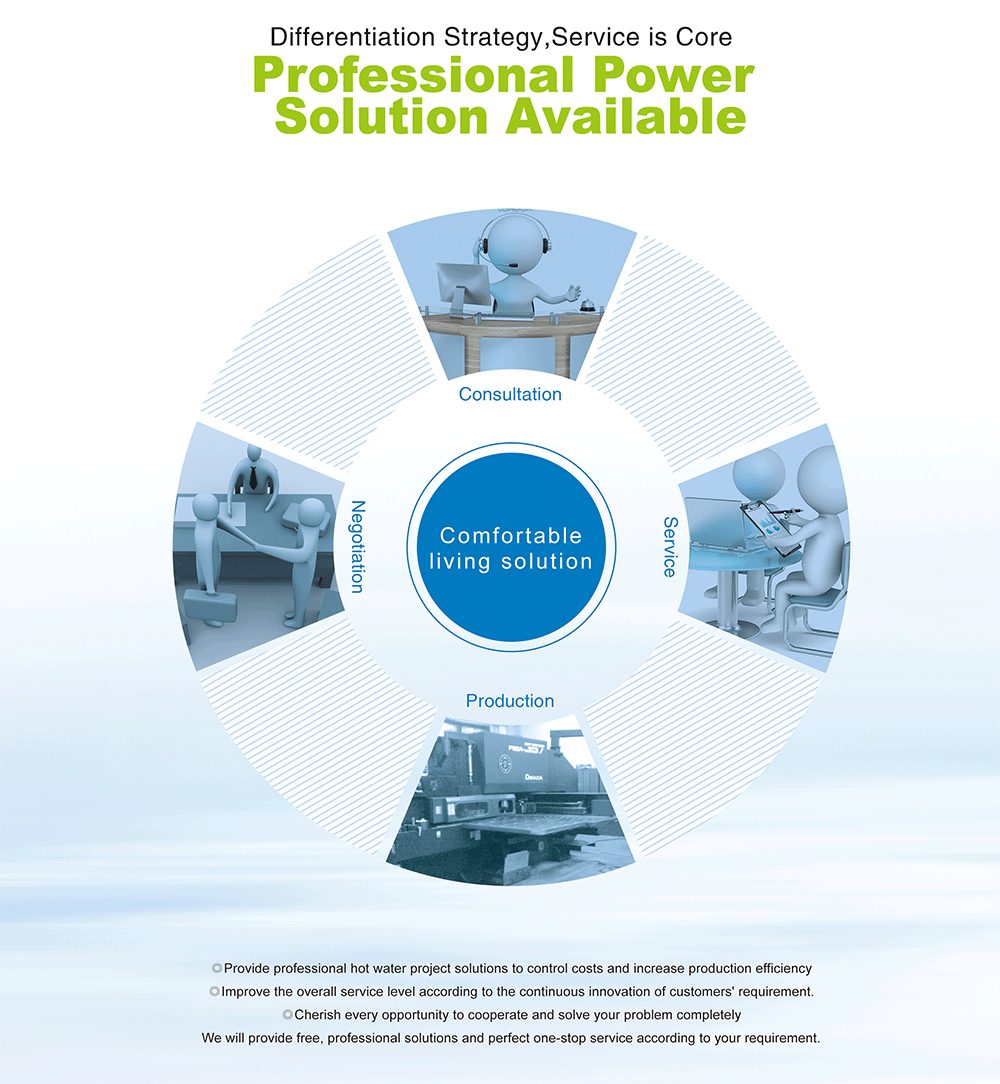 Certificate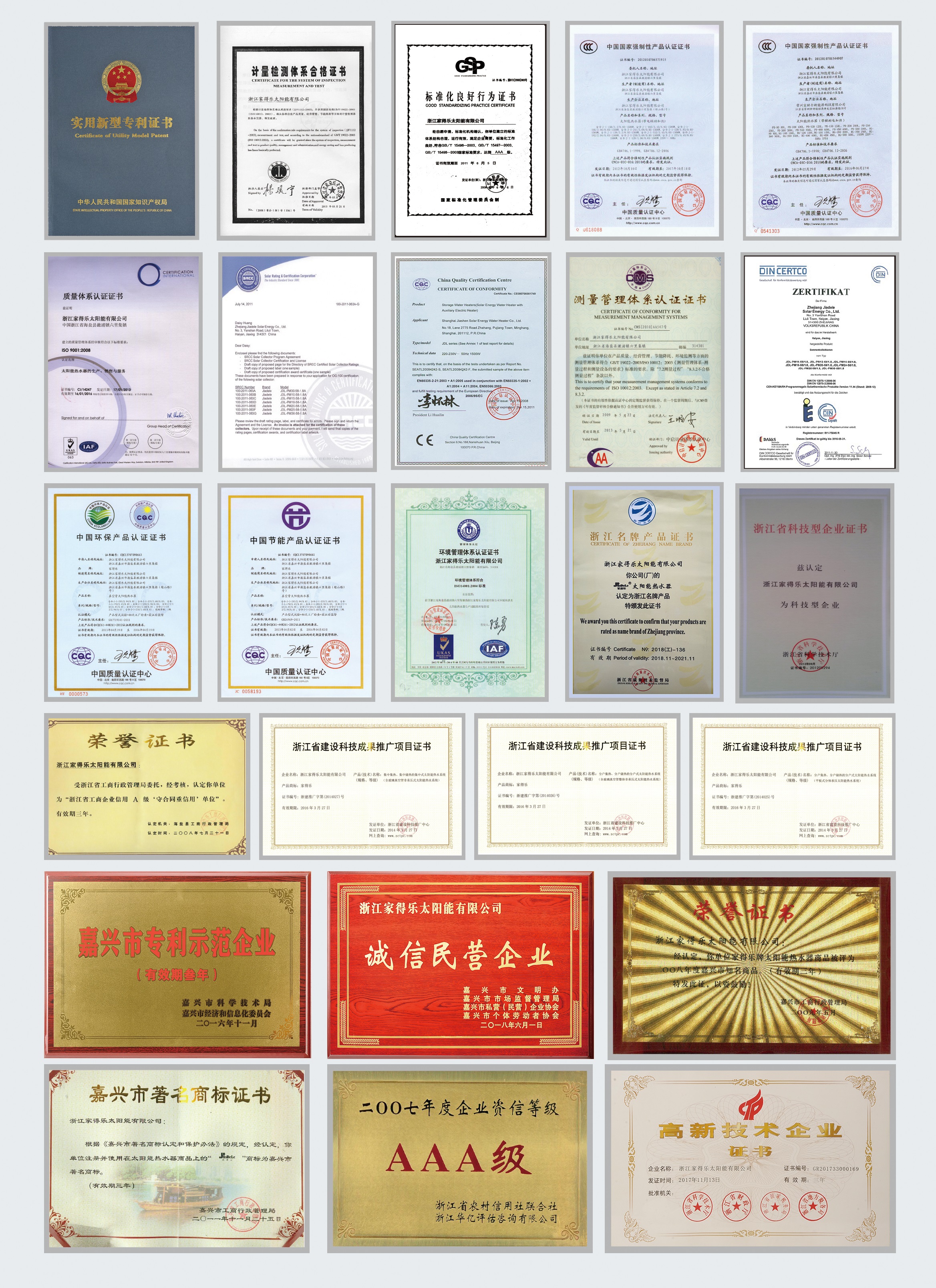 Packing&Shipping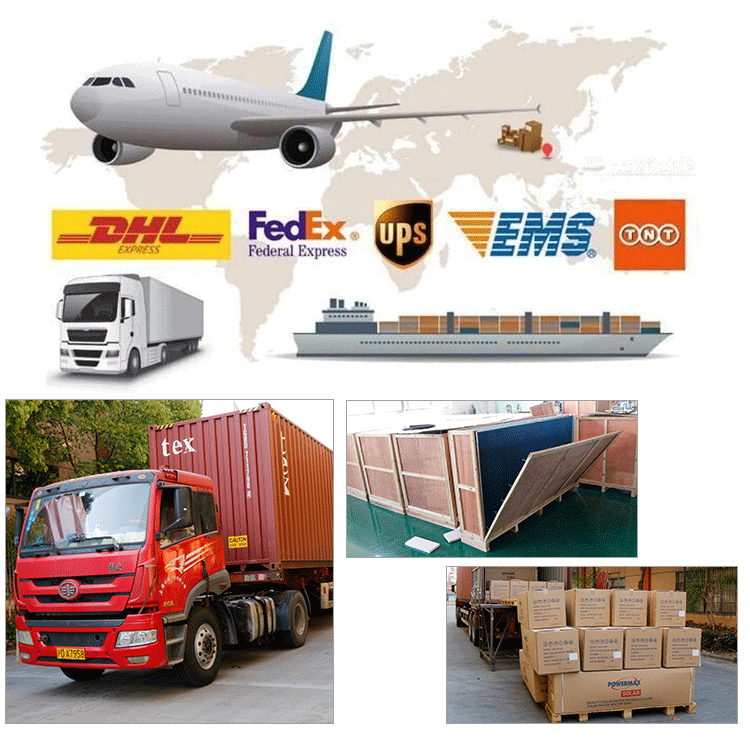 Q: Are you a factory or trading company?
A: We are factory in China.

Q: Does the products have CE / Rohs certificate?
A: Yes, my friend. We can offer CE / ROHS certificate for you.

Q: What's the shipping method and delivery time?
A: Shipped by sea express. Need 20 to 40 days by sea.

Q: How to get the price list?
A:Price list Pls Email/call/fax to us with you like items name together with you details(name,detailsaddress,telephone,etc),we
will send to you as soon as possible.

Q: Can I use my own forwarder to transport the products for me?
A:Yes, if you have your own forwarder in Guangzhou,you can let your forwarder ship the products for you.And then you will no nedd
to pay the freight to us.
If you have another question, pls feel free to contact us as below